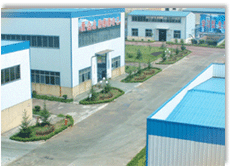 Zibo Linzi Xinqiang Chemical Co., Ltd. was founded in 1997, and the former of it is Zibo Lizi Xiangdong Chemical Factory and It is a privet-owned enterprise. It is located in the east of the Nanwang Economic Development District in Linzi, and the west of it is Qilu Petroleum Chemical Group, the east of it is Zijiang Road and the transportation is convenient. The enterprise covers an area of 7,000 square meters and the building area can be 3,200 square meters.
The enterprise is professional enterprise which integrates the development, production, sales of boron products. The honorable development and management team and the latest equipment have all passed the ISO9001 International Quality Management System and ISO4001 International Management System. The first class management system and the modern sales structure contribute to the great result of the enterprise and the products can not only be sold to all over the country but also to the USA, India, Tai Land, Japan, and South Korean in all kinds of fields.
The main products are:boron trifluoride, boron trifluoride series complex,and there are two series and more than 11 sorts of products and they can be used in resin polymerization, pharmacy, additives, intermediates, catalyst, organic compound and so on. Especially in the boron trifluoride, due to the high reaction performance of gas products, it cost more and more attention in chemical industry and the outlook of it is great.

The business philosophy of the enterprise is "to be innovation, and outstanding" and the management philosophy of it is "First class products, management, service and talents" and the goal of the enterprise is "quality first, superior service, strict management and top the credit". The enterprise is looking forward to cooperating with the friends both at home and abroad to seek development and bright future.